Due to State testing Tuesday thru Thursdays until May 28th we will have a "Quiet" campus.
No visitors in classroom grades 2nd - 8th from 8:00-10:00 am.
We will NOT be able to pull students from class during this time.
Wonderful opportunity for a FREE health screening!
We are excited to inform that
Clinicas
, a community outreach health service provider, will be available to offer health screenings to our community on
Tuesday, May 26th
.
The screenings are scheduled to take place from
1:30 to 4:30 p.m
.
Their health services will include screenings for glucose, blood pressure, vision, body mass index, and bone density, as well as information on their programs and services.
Maravillosa oportunidad para un examen de salud GRATIS!
Estamos muy contentos de informarles que Clinicas, un proveedor de servicios de salud para la comunidad, estará disponible para ofrecer exámenes de salud para nuestra comunidad el martes, 26 de mayo.
Los examenes están programadas para llevarse a cabo de1:30-4:30
.
Sus servicios de salud incluirán pruebas de detección de glucosa, presión arterial, visión, índice de masa corporal, y la densidad ósea, así como información sobre sus programas y servicios.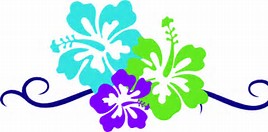 We invite you to join us on
Friday, May 29th, from 5:00 to 8:00
for our 13th Annual Dolphin Days Luau.
The Luau is a wonderful community event.
Our Dolphin Days Luau will feature game booths, food booths and entertainment.
There will be lots of fun for the entire family.
Each class will be responsible for helping in their food or game booths.
Please contact your child's teacher to see how you can HELP!!
Click the
HERE
to see Classroom Food and Game Booth assignments